National Police Wildlife Crime Officers Training Course: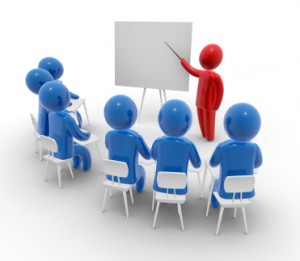 Dates released for 2023:
Module One
The once five day PWCO course is now delivered in a priority-based, condensed format delivered over Teams for three days called Module One. The national priority areas are covered which includes Badgers, Bats, CITES, Birds Of Prey, Hare Coursing and Poaching. Inputs are also delivered on Health and Safety and the Hunting Act.
Maximum – 2 places per force.
Dates for 2023 are:
07/03/2023 to 09/03/2023 -FULL
12/09/2023 to 14/09/2023 – spaces available
14/11/2023 to 16/11/2023 – spaces available
Module Two – PWCO Class Licence
Licence to carry out wildlife crime investigation (CL30) – GOV.UK (www.gov.uk) Please read before you attend this course.
Each will run 0900-10:30am – hosted by NWCU & Natural England.
Dates for 2023 are:
26th Jan -FULL
23rd Feb – cancelled
23rd March – spaces available
*new dates*:
25th May– spaces available
27th July – spaces available
28th Sep– spaces available
Module Three – Animal Welfare Act Police powers
This will be training over Teams in the Animal Welfare Act and police powers 0900-12:45, lunch then 13:30 – 15:00 training with the RSPCA Special Operations Unit covering a range of organised wildlife & domestic animal crime.
Dates for 2023 are:
27th September – spaces available
1st November – spaces available
22nd November – spaces available
Module 4 – Wildlife Forensics Practical
Dates for 2023 are:
20th April (North – Dales Countryside Museum near Hawes)
17th May (East – RSPB HQ Sandy)
5th June (West Mids/Wales – West Mercia HQ Hindlip Hall, Worcester)
28th June (South East – Surrey HQ)
4th July (South West – D&C HQ, Middlemoor)
Module 5 – CITES course (2x days)
The provisional date of 6-7th Feb has now been postponed. NWCU, Border Force & JNCC are looking at options and when this is decided information will appear here. Please do not email NWCU to book places at this time.
To request a place on any of the above modules (modules 1 to 4), or if you have a query regarding police training please contact NWCU (for police email only).
FAQ's
Q: Do officers whom have previously done the 5 day PWCO or an in house version of it in force, need to complete all the essential Modules 1-4 ?
A: No. The 'new' style PWCO course is entirely voluntary for those that feel they need it or wish to complete them to gain an NWCU certificate. It does not in any way impact whether you can take on WCO investigations if you have previous training or are an experienced WCO. Purely a matter of choice. However for all new WCOs, we would ask that they book with NWCU for the essential modules 1-4 and gain their certification with NWCU. Again none of this is mandatory training so down to the individual and their line manager/Force Lead/Coordinator.
Q: Do officers have to do Module 1 to be able to take Module 2,/3 or 4 or 2, 3 & 4 or a combo of?
A: No. You can choose those Modules most relevant to you however for the new WCOs we strongly recommend they complete Modules 1-4 and they will also gain WCO certification from NWCU.
Q: We want to train more than 2 officers, can we ask for a spare place if there is one?
A: You can by all means add a 3rd reserve but they will be added in a first come, first served basis to the next course and to the 'reserve' section of the impending course. Clearly we will only book in a few reserves up to 5, in addition to the 30 max per Teams session.
Q: My force needs an overview day on wildlife crime – how can I book this?
A: Craig works for NWCU part time but continues to run a small number of bespoke courses for forces in 2023 so please contact him direct on these matters craig@wildlifetraining.co.uk to see if it is feasible. The national PWCO course is now run by NWCU so should you have a question on the PWCO modules please direct queries to NWCU (for police email only).
Q: What are the other advanced modules and when can I book myself on these?
A: These are still in the planning stages, with the priority focus to book Modules 1 – 4 and sourcing of Forensic Module 4 venues. Below is a draft of the advance modules, many will be over Teams. Please do not email to book these yet – a PWCO SPOC email and NWCU website entry will go live when the advanced modules are confirmed.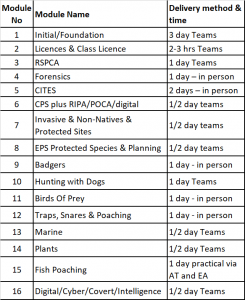 Again – still in the planning stages so please do not request any bookings on Modules 5-16 yet.